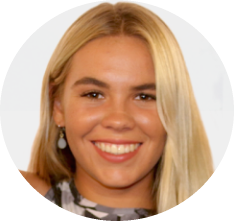 Sunset Beach, North Shore, OAHU, Hawaii
AGE 17 born (1/17/2000)
Height: 5'7"
Weight: 125
Zoe McDougall was raised in Hawaii on Sunset Point, Oahu. For most of her life, she has been focused and training hard to reach the highest levels of competitive surfing. It is her goal to reach The WSL Championship World Tour in the next few years.
After many years of competing at the amature level in Hawaii and California with NSSA & HSA Zoe was ready for to begin something new and bigger. She began the International World Surf League Qualifying Series at fourteen in Brazil. Her first big International event was a 5th place result at The Mahalo Surf Eco Festival in Itacare' Brazil QS 3000. This result enabled her seeding into QS 6000 at a young age. In 2015 Zoe traveled to a handful of WSL International Tour events worldwide while still being a full-time high school student online. With improving results in WSL QS Events in China, Australia, New Zealand, Europe, California, and Hawaii.  In 2016 Zoe made Jr. Pro finals all year in her region and 1st place Championship Jr. Pro in S.Africa, Semi-Final  ISA Worlds in the Azores, Semi Final Cabo Jr. Pro,  9th at WSL QS 6000 9th at Supergirl in California, and WSL World Jr. Championships quarterfinals.  At the end of 2016 ranked 3rd in Hawaii Jr.Pro and 46 WSL International QS series. Zoe has started out 2017 with a big win at home at the WSL Jr. Pro Sunset and a huge result in Australia at a QS 6000.